Non-Dairy Protein
Nutrition online supplement store Dubai is a leading supplier of nutritional pre and post-workout protein powders or supplements in the UAE. Our range of plant based or non dairy protein supplements include products comprising varied sources of protein such as soy, pea or rice protein, which are beneficial to persons who have food intolerances. Dairy free protein allows athletes and those who work out to satisfy their increased protein needs without any digestion or nutritional issues that come with milk protein. Aside from lactose and dairy sensitivity, these protein sources are an excellent option for anyone looking to switch up to avoid allergies. Check out our complete range of pure protein products available in Dubai.
Popular Dairy Free Protein Types
While it is essential to have enough daily protein intake, it is also critical to select the most appropriate protein type. A variety of dairy free protein powder substitutes for vegans and lactose-intolerant people are available in the market. Protein is necessary for overall body fitness and well-being, as well as for physical activity like workouts. Muscle development and repair, energy restoration, and a range of other vital biological activities all require protein. For example, pea and rice proteins are excellent dairy free whey protein alternatives in the UAE. This is because they have a low risk of triggering an allergic reaction, are easy to digest, and give an excellent amino acid profile when combined.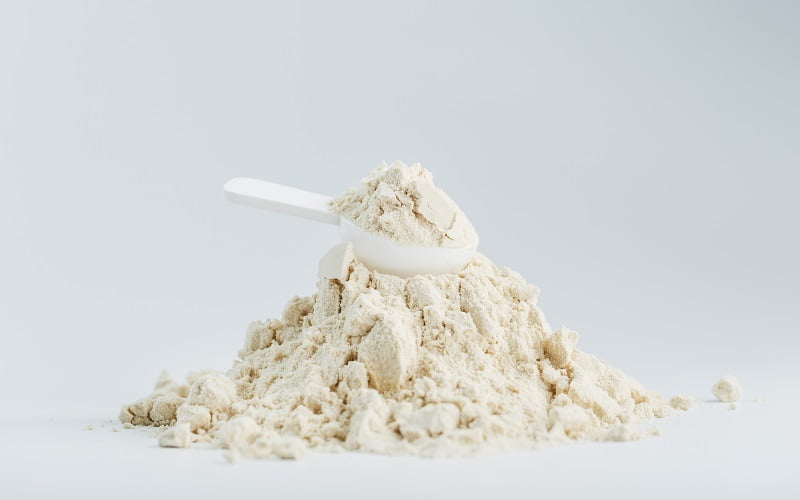 Why Go for Non Dairy Products?
Plant-based proteins may enable vegetarian and vegan who may not consume as much protein as others to enhance their overall energy levels, health, and lifestyle. Although whey protein isolate is accepted by many people with lactose intolerance, those with lactose sensitivity may choose to avoid whey in favor of a dairy-free protein. If you're a vegan or follow a largely plant-based diet, you'll need to locate a dairy-free protein that works for you. It's critical to choose a plant-based protein powder that's high in protein and easy to digest.
FAQs
Will non dairy supplements be sufficient for my protein needs?
A complete protein is one that has a sufficient amount of each of the nine necessary amino acids. The human body cannot make these organic protein and must be obtained from the diet. A good protein supplement along with a balanced diet will accelerate muscle mass creation and promote muscle recovery.
Does dairy free protein powder taste good?
We have a wide range of premium plant based protein supplements in Dubai featuring varied interesting flavors, which will promote muscle protein synthesis but yet satisfy your taste buds.
Are plant protein products really effective?
The wide variety of dairy free proteins can help you maintain essential nutrient balance through a smoothie, meal, or snack. A rigorous workout calls for a good muscle recovery snack, nothing less than the best protein powder shake.